Scrubbers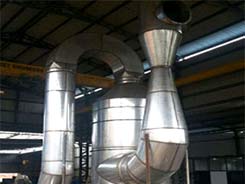 Scrubbers use water / liquor for cleaning the dust particles from the dust laden gases. Based on the dust load in the gas stream we offer Plate Type, Packed Bed OR venturi scrubbers for various applications.
We can supply various material of constructions to give longer life to these scrubbers. The most popular MOC are FRP, MS with rubber lining, SS304 & SS316L. Our scrubbers offer upto 99.997% filtration efficiency at reasonable pressure drops and can routinely meet emission requirements for all kinds of applications
Contact Us
Please call us for all enquiries regarding our services and products, including electrostatic precipitator, reverse air bag house, ESP maintenance and services and other products.